AAWNC COVID-19 Information
AAWNC COVID-19 Updates
Interim Guidance for Public Pools and Spas
Governor Cooper Signed Executive Order 142
---
Governor Cooper has announced the parameters of North Carolinas PHASE 2
Gov. Roy Cooper announced North Carolina will enter the second phase of the three part recovery plan to re-open North Carolina at the end of the week. Phase 1 will end May 22nd at 5:00 PM and Phase 2 will take effect.
Frequently Asked Questions for Executive Order No. 141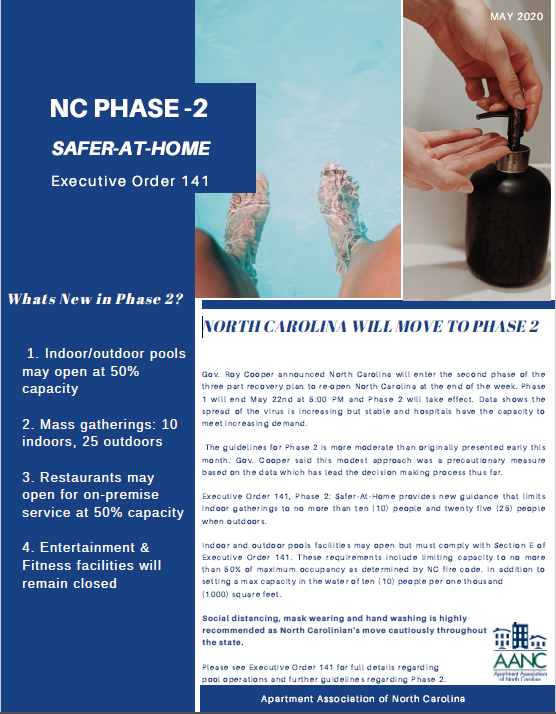 COVID19 Webinars
AANC Webinar with Chris Loebsack on Tuesday, June 9
AAWNC has teamed up with Chris Loebsack to do another free webinar on Tuesday, June 9 at 1pm. In this hour he will review Governor Cooper and Chief Justice Beasley latest Orders, address eviction moratoriums and discuss the impact this will have on the rental community. Please share the webinar info below with members.
NAA Renters and The Pandemic: An Inside Look at the Resident Experience 6/11
This webinar will uncover how renter expectations and preferences have changed in light of the pandemic. The National Apartment Association (NAA) will also present some recent findings from its monthly owner/operator survey.
"Behaviors That Are Killing Your Likability Right Now" 6/15 11am (free)
Stress is high for everybody right now and most people's emotions are right on the surface. When those we interact with are most sensitive, we have to work even harder to maintain our likability. And unfortunately, there are a lot of likability mistakes being made right now. Join us to learn the 6 most common likability mistakes we're making right now and how to correct them.
COVID19 Recorded Webinars
More Than An Employee: A New Way of Seeing Ourselves After This: Our vision may have changed, but the mission is still the same. Are you secure in your mission and clear on how to internally and externally serve others? Do your values resonate with the head and the heart of your teams? Tune in and learn how aligning your mission, vision, and values is more critical than ever to heal, stay the course and identify a new way to lead after this.
The New Normal: Benefits of Successfully Navigating Change in a Fast-Paced Workplace: From new apartment staff to new managers. From new organizational direction to dramatic changes in business due to economic or health concerns. Change is ever present, housing is a basic need and our lives have changed! This session will show you how to best assist all staff, create a culture of openness and ideas and successfully navigate change in your workplace.
Chris Loebsack on NC Evictions and COVID19 (updated 5/11)
An Update on the recent changes to the NC Eviction Process as impacted by COVID19 with Loebsack and Brownlee's Chris Loebsack.
COVID-19 Pandemic: Assessing Impacts on The Economy, Household Sentiment and the Apartment Market
This in-depth 4/webinar, presented by CoStar Group and the National Apartment Association (NAA), explores the outlook for the U.S. economy, household behavior, market-level performance and key findings from a recent NAA survey of owners and operators. 4/29

Paycheck Protection Program Webinar for the Rental Housing Industry The National Apartment Association (NAA) and Womble Bond Dickinson (US) LLP invite you to view this important webinar, "Paycheck Protection Program (PPP) and the Multifamily Industry," which tackles common questions surrounding the PPP and explores its implications for rental housing owners and operators.
Small Business Benefits in the CARES Act Webina 4/3 presentation featuring Sam Gilboard (NAA) and Norm Praet (Brownlee, Whitlow & Praet).
Coronavirus Outbreak: What Real Estate Managers Need to Know NAA and the Institute of Real Estate Management (IREM) hosted managers from both rental housing and commercial management for a live panel discussion on addressing the spread of COVID-19 and developing policies and procedures around the coronavirus. Coronavirus Webinar: Answers to Frequently Asked Questions

NAA COVID-19 Micro-webinar Series The National Apartment Association (NAA) has introduced a new video series as part of our COVID-19 (coronavirus) resources. These brief, 10-minute or less micro-webinars will examine and provide guidance on pressing issues affecting the rental housing industry in light of coronavirus, including: The transition to working remotely, how to handle maintenance requests, what to do if a resident tests positive for COVID-19 and how to handle media requests
Chris Loebsack on NC Evictions and COVID19 (updated 4/2)
An Update on the recent changes to the NC Eviction Process as impacted by COVID19 with Loebsack and Brownlee's Chris Loebsack.
Articles and Information
Chief Justice Latest Order on Court Openings
National Apartment Association News Page
NAA COVID19 Economic Impact Reports
Guidance about the proper use of personal protective equipment (PPE)
The Paycheck Protection Program
NAA Guidance for Dealing with COVID-19
Buncombe Stay Home - Stay Safe COVID-19
NC Evictions & COVID-19 Webinar: Parts 1, 2 & 3
U.S. Small Business Administration Disaster Loans
Are Apartment Personnel Essential?
It is important to understand that Buncombe County is encouraging everyone to work from home when applicable. And that All Gatherings are prohibited. However, the Supplemental Declaration Of A Local State Of Emergency defines essential business as:
9.b.vii. Essential Services Necessary to Maintain Essential Operations of Residences or Other Essential Businesses. Trash and recycling collection, processing and disposal; mail and shipping services; building cleaning, maintenance and security; warehouse/distribution and fulfillment; storage for essential businesses; funeral homes, crematoriums and cemeteries. Plumbers, electricians, exterminators, and other service providers who provide services that are necessary to maintaining the safety, sanitation, and essential operations of residences and Essential Businesses. Professional services, such as legal or accounting services, when necessary to assist in compliance with legally mandated activities, contractual obligations, and end of life directives. Businesses that supply other essential businesses with support or supplies needed to operate.
Click for More Information
Buncombe County has issued a "Stay Home – Stay Safe" Declaration.
That goes into effect Thursday, March 26, 2020 at 8 p.m. The intent of this declaration is to further minimize all opportunities for exposure and transmission of COVID-19 across the jurisdiction. This declaration directs all Buncombe County residents to "Stay Home – Stay Safe" and to limit movements outside of their homes that are not deemed essential. This declaration is valid through Thursday, April 9, 2020, at 6 a.m., but will be regularly reviewed and evaluated which may lead to revision, amendment or extension. You can a summary of the Guidelines here