Back to Events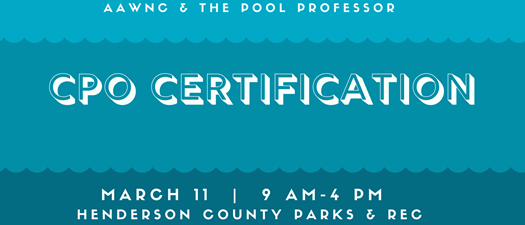 Pool School - March
NC Public Swimming Pool Statutes
CPO Class
Wednesday, March 11, 2020
Event Details
This Registration is now closed. If you are interested in attending the next available CPO class please email Info@aawnc.org
Instructor Mr. Roy Fielding with Pool Professor
North Carolina's Public Swimming Pool Statutes.
Review of NC Swimming Pool Rules,
Disease & Accident Prevention,
Pool & Spa Equipment,
Pool Calculations,
Water Chemistry,
Water Testing & Chemical Adjustments
Hendersonville Parks & Recs;
Henderson County Parks and Recreation Building
708 South Grove Street, Hendersonville, NC 28792.
9:00 AM- 4:00 PM with an hour off for lunch.
Phone number at the building: (828) 697-4884.
Materials needed: Calculator, Pen or Pencil
Lunch on your own.